You will live an original experience that will stimulate all your senses.
We will discover together our history, our cellar and the wine techniques we apply to make great wines. The unique tasting tower, an ancient pigeon house from the XVI century, as well as the greenhouse designed by Gustave Eiffel will be part of your gourmand journey in the universe of Reignac.
Before we start with the tasting we will go in our scent garden situated just behind our historical greenhouse. It assembles various families of plants offering you either by their aroma, or by their aspect, or by their taste a unique selection of aromas you can find in white and red wines. An original exercise before the wine-tasting!
Our scent garden helps you to train your olfactory memory.  You will learn how our senses of smell and taste work, where do the aromas in a wine come from, what are the original aromas of each grape variety, the steps of the wine tasting. The purpose of this wine tour is to discuss, to learn about wine and to exercise your senses. We finish this tour with a wine tasting of three of our wines: the Reignac White, the Château de Reignac and the Grand Vin de Reignac.
This wine tour won the Gold Medal of the International Best Of Wine Tourism Competition in 2016.
Tours only with reservation and depending on the weather forecast.
The scent garden is open from 1st of May until 15th of October.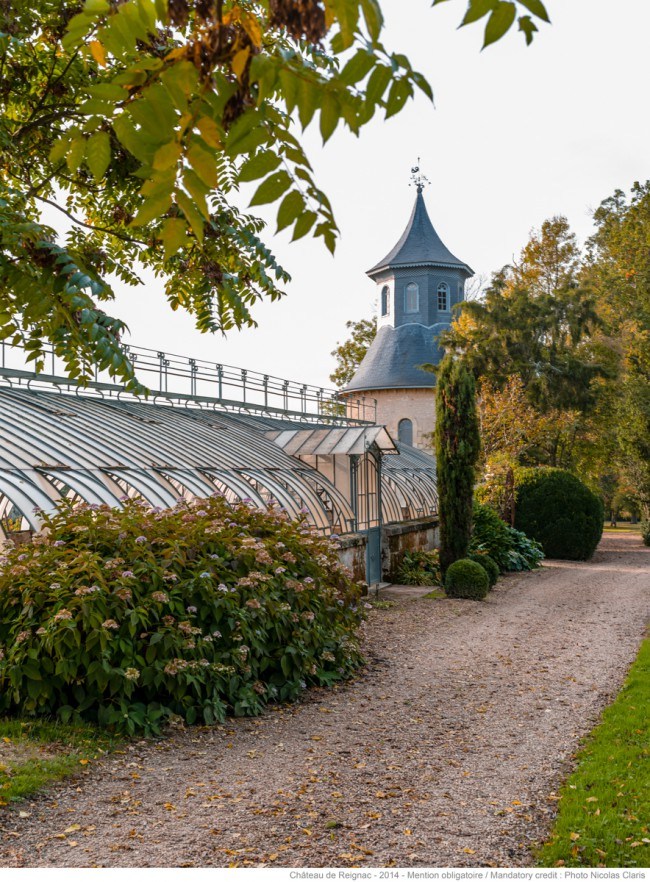 October-April : Monday to Friday, from 9-12h and from 13h30-17h00
Mai-September: Monday to Friday from 9h-12h and from 13h30-18h / Saturday 10h-12h and 13h30-18h.
Only with reservation and depending on the weather forecast.
Natalie R.
"Beautiful"
14 May 2015
Absolutely beautiful grounds,.wine and staff! The scent garden that will be opening soon is amazing! Very interesting and staff very knowledge!Thank you Mona and Nathalie for a lovely visit!
SindhuR
"Lovely Grounds & Wine Tasting"
20 November 2014
Chateau de Reignac was the last place we went to on our wine tour. Mona, our hostess was very sweet, passionate, and knowledgable about the chateau and the estate's wines. We had a great tour and enjoyed our tasting in the pigeon house. It's one of the few places where we could visit that had wonderful wines AND a beautiful chateau to see.
sGeorges3
"Wonderful Winery Visit - A Hghlight of our Bordeaux Travels"
15 Oktober 2014
We visited Chateau de Reignac as part of a private guided tour of St. Emilion, and were provided a wonderful tour of its vineyards, cellar and grounds by Mona, a lovely and informative guide. The Chateau was gearing up for its harvest and we sampled the grapes from the vines. Chateau de Reignac produces "an unclassified Grand Cru," which means that its wonderful wines scored higher in many recent years than many Grand Cru Classe wines when judged in a blind taste test by a European Grand Jury. The highlight of our tour was a visit to the Pigeon House Tasting room where we sampled Reignac White 2013, Chateau de Reignac 2012 (2nd wine), and Grand Vin de Reignac 2010. These fine wines are surprisingly valued price. We spent two days with a private wine guide visiting seven Chateaus in the Left Bank (Medoc, Haut-Medoc, and Margaux), and around St. Emilion/Entre-Deux-Mers, and our visit to Chateau de Reignac was the highlight of our trip. Don't miss it!
Price of the visit: 25€/person
Duration : 2h
Number of participants: maximum 12
If more, please contact us in advance.
Only with reservation and depending on the weather forecast.
Ref GPS 44.903662,- 0.422066
If you take the the national road N89 
Exit N° 4  Saint-Loubès ("La poste")
Direction St Loubes
Arrival in front of the big gate
If you are coming from Bordeaux/ A10
Exit St loubes N° 42
When you are in St loubes take the direction "Montussan"
At the roundabout take the second exit ("Chemin de Reignac" road)
Arrival in front of the big gate